Stockport Beer Week 2021
Thursday 23rd September to Sunday 3rd October 2021
The 2021 event is underway

Stockport Beer Week 2021 is going ahead in conjunction with Cask Marque's National Cask Ale Week and will run from Thursday 23rd September to Sunday 3rd October.
Stockport is open for business and Stockport Beer Week is back for 2021. After a mostly virtual event last year, pubs and hospitality venues are at last open again and need your support. Everybody has been hit hard in some way by the pandemic and this is certainly the case for pubs and breweries.
The Beer Week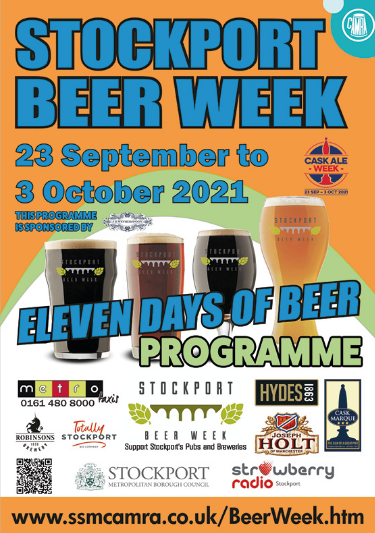 is designed to help people get back safely to the pub again. We have arranged face to face events such as pub and cellar visits, tastings and a bus tour. However, for those not yet ready to go to an event, there's a cask beer Ale Trail and themed beers will feature in some pubs. You can visit these pubs in your own time anytime during the week. And most events are free.
We look forward to you participating in the Beer Week to help support our pubs - if we don't use them, we will lose them.
Here is an outline of the events taking place during Stockport Beer Week. To see the full programme use the link by clicking the image right.
Use the < and > to flick through the pages.
LONGER EVENTS

Saturday 18 September - 3 October

ALE TRAIL
Yes it does start before the Beer Week itself
We will be running an Ale trail round cask ale pubs across the centre of Stockport involving 24 pubs. Starts a little before the Beer Week on Saturday 18 September and runs until the end on Sunday 3 October. There are prizes for visiting 12 or all 24 including bottles of beer, beer vouchers and inclusion in a draw for either a meal in a pub or a case of Robinsons beers.
Further details here.

Thursday 23 September - 3 October

Local Beer Showcases
The Angel Inn in the Market Place will feature local beers as will the Samuel Oldknow in Marple.
JD Wetherspoon's Calverts Court (Town Centre) and Wilfred Wood (Hazel Grove) will feature Stockport beers

Single Hopped Beers
The Ye Olde Vic in Edgeley will be serving single hopped beers. Not the same hop for all beers, but each beer has only one hop.

Mystery Pubs
We will be running a mystery pub competition on line on this website during the Beer Week involving 14 pubs around Stockport Borough. Four pubs will be revealed on or just before 23 September, then one extra each day until the end of the Beer Week. All entries with at least one correct answer will received a prize plus all correct entries will be entered in to a draw for an overnight pub stay, a gallon of beer or a case of beer. Full details here.
SINGLE EVENTS
All events are free to enter except the Beer and Food Tasting on 30 September which is TICKET ONLY.
Please see below for details.

Thursday 23 September
Opening event 7.30pm, the presentation of Pub of the Month award to the Blossoms in Heaviley. Guest speaker — William Robinson, Managing Director of Robinsons Brewery's Pubs Division, who will tell us about the effects of the last 18 months on the business and their plans for the future.

Friday 24 September
Sloping around Stockport, a wander around pubs on Stockport's Slopes. Starting at the Wellington Inn on Wellington Road South at 7pm [opposite McDonalds], we move down the slope, via some historic pubs, to the Swan with Two Necks on Prince's Street for 8pm. Then it is up the slope of Wellington Road North taking in the Midland, Railway and Magnet. Our guides will be armed with historical facts about the pubs on the route.

Saturday 25 September
Pub cellar visits at the Arden Arms, Boars Head and Turners Vaults all in Stockport Centre. First at noon, then 1pm with the last at 2pm.

Sunday 26 September
No specific Beer Week event however. . .
Northern Soul Sunday Social takes place in Stockport Market Place from 11am-5pm with vinyl DJs and dancing, art stalls, scooters, food and drink plus ice cream available. Free admission and there are plenty of ale trail pubs to visit in the area.

Monday 27 September
No specific events; why not visit some of the places on the Ale Trail? Alternatively try a Stockport beer, single hop beer or other local beer at an all week location.

Tuesday 28 September
No specific events; but why not visit some of the places on the Ale Trail, try a Stockport beer, single hop beer or other local beer or study the Mystery Pubs to see if you can identify any?

Wednesday 29 September

Blue Plaque unveiling — Printers Arms, Stockport Road, Cheadle at 3:00pm for 3:30pm [is advertised as 2.30pm elsewhere]
Our CAMRA Branch was formed at a meeting in the Printers Arms on 15th January 1974 and was the first one in the Greater Manchester area. To commemorate this, founder member Neil Kellett, still a regular at this Robinson's pub, will unveil a blue plaque at the pub at 3.00pm.
Meet the Brewer — Magnet, Wellington Road North at 7.30pm
The pandemic had a big effect on all our local breweries and Richard Conway from Thirst Class Ales will tell us how he had to change his business plan overnight in order to survive. Richard has also brewed a special beer for the Beer Week and this and others will be available on the night.

Thursday 30 September
Tutored Tasting and Food Matching — Petersgate Tap, Petersgate at 7.30pm
Join us at the Petersgate Tap for another tutored beer tasting hosted by renowned Beer Sommelier Annabel Smith. The beers involved will be completely different from the ones Annabel brought along two years ago and will include local favourite Stocky Oatmeal Stout by Thirst Class Ales based in Reddish.
* * * PLEASE NOTE — THIS EVENT IS TICKET ONLY * * *
TICKETS COST £10 and will be on sale from the Petersgate Tap from mid-September. Please keep an eye out on their social media as well as that of the Branch for full details.

Note S O L D O U T All tickets now sold.

Friday 1 October
Torrside Monsters Weekend — Petersgate Tap
This weekend, Torrside Brewery of New Mills are once again showcasing some more of their Monsters range of strong beers. Some of these are exclusive and will never be found in cask again. In fact the brewers will be down over the weekend as this will be their only chance to try them in this format!
As these beers are very strong, they will be available in third-pint measures as well as in halves.

Saturday 2 October
Torrside Monsters Weekend — Petersgate Tap - see above
Bus trip to pubs to Cheadle Hulme, Bramhall and Davenport
Meet for the 11.45am 313 Stagecoach bus at Stand CC on Wellington Rd North just by the old Debenhams store at the edge of Mersey Square. Please check on arrival as times and stands may have changed since we went to press.
Free to participate but purchase your own bus ticket - a Stagecoach Dayrider can be obtained on the bus. And buy your own beer!
Join our experienced local CAMRA Social Secretary, Darren Berry, as he takes you on a tour of the best pubs in the area. The TIMING POINTS are planned as shown below.

Depart Stockport Stand CC 11:45 Bus no. 313 and arrive Adswood 11:59 and visit Cross Keys (Hydes) - Thanks to Hydes for allowing all participants who buy a cask beer here to be given a voucher for a free pint to be redeemed at the John Millington, Cheadle Hulme later on in the tour.

Depart Adswood 12:59 and arrive Cheadle Hulme Village 13:03 Bus No 313 and visit Chiverton Tap (Free House), Archive Bar (Free House), P5 (Holts), John Millington (Hydes), Governors House (Greene King)

Depart Cheadle Hulme (Governors House) 15:38 and arrive Bramhall Village 15:45 Bus no 378 then visit Mounting Stone (Free House)

Depart Bramhall 16:45 and arrive Davenport 16:57 Bus no 378 then visit Jolly Sailor (Almond Pubs)

Depart Davenport 17:52 and arrive Stockport 18:03 Bus no 378
This is of course subject to bus times, but you can come and go as you please. If you want to find out where the group is at any stage, contact Darren on 07779 733267.

Sunday 3 October
Torrside Monsters Weekend — Petersgate Tap - see above
REGULAR EVENTS IN STOCKPORT PUBS
Now that the pubs have reopened it is more important than ever that we support them throughout the year, not just during the Beer Week. We must use them or we will lose them.
Here is a list of the events we know have started
ARDEN ARMS (Town Centre) — live bands, usually on Friday and Saturday evenings.
BAKERS VAULTS (Town Centre) — occasional live music events.
BLOSSOMS (Heaviley) — Knitting Club and Open Mic on Mondays, Quiz on Wednesdays, Live bands on Fridays plus monthly Folk gigs and Country+ Blue Grass performances.
COCKED HAT (Market Place) — Karaoke on Fridays.
NURSERY (Heaton Norris) — Quiz night Wednesdays 8pm.
RAILWAY (Wellington Road North) — Live Jazz on Sunday evening.
SPINNING TOP (Wellington Road South) — Stockport's premier music venue features many different bands over the year and also serves real ale. Gigs we are aware of during the Beer Week are below.
• Friday 1 October - Thin DC - a first outing for this band. Doors 7pm: Band 9pm
• Sunday 3 October - Liquid Engineers + Gary Newman Tribute - starts 4.30pm
For further details see the venue's website, https://bandfinder.uk/venue/1182.php
WELLINGTON (Wellington Road South) — Live music Saturday evening.
A Big Thank You to our Supporters
Stockport Beer Week is very grateful to the following organisations for generously providing prizes and offers during the Beer Week