November's Pub of the Month
Fletcher Moss, Didsbury
Thursday 25 November 2021
1 William Street, Didsbury, Manchester M20 6RQ Map

The Stockport & South Manchester CAMRA winner for November 2021 is the Fletcher Moss at 1 William Street, Didsbury, M20 6RQ. Mike Wilson explains why this excellent wet-led pub won the award.
Cast your mind back to the halcyon days of the busy,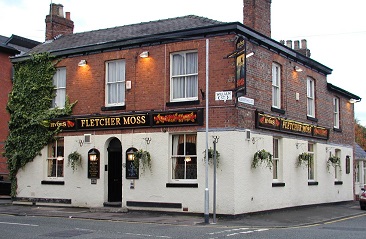 traditional pub where good ale and conversation were available in equal measure, aided and abetted by attentive and sociable staff. Well you don't need to wallow in nostalgia any longer, because the Fletcher Moss delivers these welcome and popular qualities by the spadeful.
Cask is king here. Six or seven pumps dispense a comprehensive range of Hydes beers, kept in superb condition. Such is the popularity of the Fletcher Moss you need have no concern that, if you happen to catch the last pint out of the cask, its quality will be in any way inferior. Fast turnover will guarantee top quality. Most encouragingly, manager Martin Devlin reports that the student population is turning its back on national lagers in favour of cask-conditioned ale - an education worth leaving home for!
This thriving pub combines a traditional layout at the front along with an extended section at the back, opening into an attractive beer garden which helped to draw many new customers during the semi-lockdown when indoor drinking had been prohibited. Consequently, manager Martin reports a turnover that exceeds pre-Covid levels. As well as attracting new customers, the pub has retained its loyal band of locals as attested by Pete and Barry, stalwarts for many years, who could speak only in glowing terms about the pub and its staff.
This award is partly in memory of CAMRA member Stuart Ballantyne, who died in August and is fondly remembered here.
Join us on Thursday 25 November from 8pm and celebrate along with Martin, his staff and, of course, Pete and Barry.

The Pub of the Month award is sponsored by Stephensons, a local family firm that has been supplying the local pub and catering trade for over 140 years. Check out their web site by clicking on their logo.

Weekday Wanders
Next event - 11:00am Wednesday 15 December 2021
This new venture is targeted at people who are available mid-day and fancy a few leisurely beers in an afternoon outing. This may be especially appreciated by those who don't fancy going out late on dark Friday evenings when pubs are likely to be populated by more raucous individuals. The Weekday Wanders are designed to depart Stockport 11:30 onwards [bus/train time dependant], to arrive at a local destination around 12:30. We will then visit two or three (or maybe more) worthy pubs where we will spend around a leisurely 45 minutes to an hour before moving on. It is not intended as a rapid tour of all the Good Beer Pubs in a locality, but a peaceful pint in a number of decent pubs. Return is envisaged at around 4:30pm to beat the rush hour - if it still exists!
The wanders are also designed around everyone having a bus travel pass with train/tram enhancement on or equivalent all bus/day ticket. Thus travel between pubs may entail hopping on and off buses, thus saving too much walking [but requiring some disciplined drinking in order to catch connections!] They are also designed to enlighten people of the worthy pubs which can be visited but a short train ride away.
This third outing will be going a bit further afield and visiting Rochdale. We will depart on the 11:11am Northern train heading towards Blackpool North and alighting at Salford Crescent at 11:40am. Crossing the platform we [hopefully] will catch the 11:45am Southport to Stalybridge train, arriving at Victoria at 11:50am. Some fast footwork transiting from platform 4 to 1 should allow us to catch the 11:55am express to Rochdale, arriving at 12:11pm. Should we miss these connections the backup is to board the Kirby to Blackburn train at either Salford Crescent (11:57am) or Victoria (12:03pm) to arrive in Rochdale at 12:20pm. NOTE: If you don't have a travel pass, using the System 1 AnyBus & Train Off Peak ticket isn't an alternative as there are restrictions on Northern Trains 16:00 to 18:29 — unless you plan to remain in Rochdale until later!
A 10 minute walk [or jump on the tram if one materialises] and we will be outside the Town Hall, with all four pubs being no more than 5 minutes walk in all four points of the compass. The choice of pubs is extensive, but two 'traditional' pubs and two modern pubs, in both large and small sizes, have been chosen.
The return to Stockport is envisaged around 5pm, there being some five departures 4:38pm to 5:19pm, where some swift footwork, as on the way out can result in a number of arrival times 5:35pm onwards.

Arrive
Leave
Pub
Address
Food
11:00am
11:11am
Stockport Rail Station Platform 4 - Blackpool North train. Arrive Rochdale 12:11pm or 12:20pm
12:30pm
1:45pm

Flying Horse

37 Packer Street, Rochdale, OL16 1NJ
11:30am till 8pm
1:50pm
2:50pm

Medicine Tap

Ground Floor, 2 The Esplanade, Rochdale, OL16 1AE
11:30am till 8pm
2:55pm
3:50pm

Baum

35 Toad Lane, Rochdale, OL12 0NU
11:30am till 9pm
4:00pm
4:35pm

D'Ale House

18 Drake Street, Rochdale, OL16 1NT
No
4:45pm
Depart Rochdale Train Station and arrive in Stockport. There are numerous permutations of trains and connections, some of which entail nippy footwork to beat earlier trains in to Stockport!
16:48 ➜ 17:51
16:55 ➜ 17:50
17:15 ➜ 18:13
17:19 ➜ 18:22
17:36 ➜ 18:35
17:36 ➜ 18:51
17:51 ➜ 18:50

Future event - 11:55am Tuesday 18 January 2022
This fourth outing will be more local and will be visiting Denton. We will depart on the 12 noon bus number 327 from stand H2 in the Stockport Heaton Lane bus station to arrive at the Crown Point stop at 12:22. We cross the impressive square (sorry I'm not sure of its name!) and within two minutes we will be in the Crown Point Tavern, a modern micro with a selection of beers on sale. We will then be working our way back towards Stockport, taking in two traditional pubs and ending at the unofficial Stockport Brewing Brewery tap.
The return to Stockport is envisaged to be on the 17:10 bus, though anyonw wanting to remain drinking can catch the 17:40. Both are timetabled to take about twelve minutes to reach Stockport Bus Station but traffic could delay us.

Arrive
Leave
Pub
Address
Food
12:00am
12:22am
Stockport's Heaton Lane Bus Station stand H2 for the 12noon 327 bus.
12:25pm
1:55pm

Crown Point Tavern

16 Market Street, Denton, M34 2XW
No
2:00pm
2:55pm

Chapel House

145 Stockport Road, Denton, M34 6AQ
11:00 till 6pm
3:00pm
3:50pm

Carters Arms

Stockport Road, Denton, M34 6AQ
No
3:50pm
4:00pm
Walk to bus stop to catch bus 322 at around 4:00pm
4:10pm
5:10pm

Arden Arms

Ashton Road, Bredbury, SK6 2RY
No
5:10pm
322 bus back to Stockport
5:40pm
327 bus back to Stockport
Day out in Macclesfield
Saturday 30th October 2021



Time

(approx)


Location

11:57 - 12:17

Train Stockport to Macclesfield

Piccadilly 11:44, Cheadle Hulme 12:01, Bramhall 12:04

12:20 - 13:00

13:00 - 13:40

13:40 - 14:30

Food available

14:30 - 15:20

Food available

15:20 - 16:00

16:00 - 16:40

16:40 - 17:10

17:10 - 17:40

18:18 - 18:38

Train Macclesfield to Stockport

Bramhall 18:31, Cheadle Hulme 18:35, Piccadilly 18:52

There are other trains back to Stockport at 17:18 stopper, 18:01 & 18:06 - these are direct.
96 Waters Green, Macclesfield, SK11 6LH Map
Open plan with two distinct seating areas and a pool room, this pub has been run by landlord Brian for over 30 years and along with the other bar staff are all very enthusiastic about the range of beers that are served here. These are, in general, pale beers from northern brewers and number up to seven, also a real cider or perry is available. This multi award winner is very close to both railway and bus stations and an ideal starting or finishing point for a Macclesfield crawl, the open fire providing a warm welcome on cold days.
25 - 27 Church Street, Macclesfield, SK11 6LB Map
Re-opened Friday 24th September 2021 after a long closure period.
An untouched, timeless and now rare example of an old-fashioned town pub. On the CAMRA National Inventory of historic pub interiors. Whitened brick, 18th century pub tucked away on a cobbled street.
It probably started life as late 18th century cottages which were subsequently remodelled. The quaint exterior belies its inner proportions, which are equally charming. There are leaded lights, moulded plaster ceilings, copper-topped tables, wooden settles, brasses and even a grandmother clock, dotted throughout its warren of little rooms. The star feature, however, is the wonderful hatch bar reminiscent of a traditional, bowed, shop window, full of spirit miniatures and old beer bottles.
On the right as you enter is a tiny vault, with a narrow lounge on the left. Past the bar is another lounge or snug on the right, this room has something of a conservatory feel, due to the presence of a glass roof. At the far end is a larger, raised area. Since re-opening three handpumps are in use with beers from Storm Brewing, Redwillow and Marble seen in early October. See www.heritagepubs.org.uk for other national inventory pubs.
Picturedrome, 102 -104 Chestergate, Macclesfield, SK11 6DU Map
A Blackjack Brewery bar in the relevantly new Picturedrome, a multi-outlet food hall located in a classic former cinema. There are up to eight hand-pumps serving Blackjack beers and others from local microbrewery's. In addition there are ten keg lines and a good selection of real ciders in boxes.
You can enjoy your drinks with a meal in the main food area or there are a few tables directly in front of the bar. Other alcoholic drinks are available from adjacent Reserve Wines.
The bar does not sell food itself but there is a wide choice of food in the Picturedrome.
Park Green, Macclesfield, SK11 7NA Map
Large centrally located stone built Wetherspoon conversion of 18th century Vicarage and College known as the Useful Knowledge Society from which the pubs name is derived. An adjacent technical college built in 1900 as an annexe to the college has also been incorporated into the pub.
Management and staff are cask beer orientated and the pub holds occasional beer festivals sponsoring local micros e.g. Hawkshead, Thornbridge, Oakham and Wentworth.
The pub is well divided internally with a number of partitioned areas seating ranges from stools and chairs to sofas. During the day and early evening, the pub is popular with shoppers and families enjoying the good value food and drinks. The 4 guest beers often include a local beer with Mobberley, Coach House and Brightside being seen recently.
32a Park Green, Macclesfield, SK11 7NA Map
Sensitive conversion of former shop premises with original windows and parquet flooring contrasting nicely with the modern look of the wood and copper bar servery. Copper is also employed to support lighting throughout the bar area and artistically deployed in the toilets. Fixed seating is provided to the right side of the bar with a mixture of free-standing seating and tables in the centre of the room.
Five handpumps dispense RedWillow beers and changing guest beers from other micros. The beer selection, together with pricing for pint, half and third measures, is clearly displayed on a wide screen above the bar, reflecting the owner's former IT connections. There are fourteen craft/keg beers available from RedWillow, collaborations, UK micros and further afield. Don't expect to find national brand lagers and stouts on offer here!
There is one ever changing real cider. Food (pizzas and cheese/charcuterie boards) available until 9pm (7pm Friday & Saturday).
32 Park Green, Macclesfield, SK11 7NA Map
Opened early October, the fourth establishment owned by Bollington brewery.
A large open plan café bar located in an old Bathstore.
Five Bollington beers are available on cask as well as a range of keg beers.
63 Sunderland Street, Macclesfield, SK11 6HN Map
A much-improved cosy town centre pub renowned for one of the best pints of Bass around. Although essentially an open plan single room pub, it's divided into four distinct areas which works well with comfy sofas intermingled with more traditional seating and real fire. Special note should be made of an original and working Space Invaders machine. Four hand-pumps in excellent condition can be found on the central bar serving three permanent beers and a guest. In the words of the licensee, a traditional boozer.
During your visit to 'The Jolly' you will notice our unique, somewhat eclectic décor. We have several items of interest dotted about the pub such as antique items, old signage and advertising slogans all collected and proudly displayed by our rather eccentric landlord! For those interested in the history of the town there are quite a few pictures adorning our walls depicting Macclesfield as it was a century or more ago. There is always something of interest to look at and talk about.
This pub serves three regular beers, Castle Rock Harvest Pale, Draught Bass and Everards Tiger. Guest beers from Laine brewery, Timothy Taylors and Moorhouse's have recently been seen on the bar.
43 Sunderland Street, Macclesfield, SK11 6JL Map
Reopened after being closed for about 500 days because of the 2020/21 Coronavirus pandemic there has been a warm welcome to this popular bar. Named after Macclesfield's nickname of Treacletown.
In the premises formerly occupied by a saddlery shop, the narrow building has a boarded floor, simple wooden tables and chairs on each side and a bar at the rear. The joint licensees are Bronwyn Riley and her husband Tim Sedgwick. Three hand-pumps serve an interesting constantly rotating range of local beers. The Tap is designed to be a welcoming place to drop in for a drink at any time while in town, so the menus list the wide range, not only of wines and foreign beers, but also of teas and coffees and soft drinks.

Credits:
A mix of www.whatpub.com and each pubs own social media.
Pub of the Year 2020
51 Wellington Road North, Stockport SK1 1HJ Map

The Stockport & South Manchester CAMRA Pub of the Year for 2020 is the

Magnet

on Wellington Road, Stockport.
In recent years the voting for the Stockport & South Manchester Branch Pub of the Year has been nail-bitingly close. This year, however, there was a clear winner.
The winning pub is chosen from the previous year's Pubs of the Month, and the 2019 crop was not only very varied but also included numerous excellent pubs. Discussion was intense but there can only be one winner, and this year the top spot was taken by the Magnet on Wellington Road North.
The Magnet is one of the best-known and most-visited pubs in the whole of the Stockport & South Manchester CAMRA branch area. Last November it celebrated ten years of trading as a free house, and the pub is a testament to the hard work and vision of the whole team, led from the front by Lee and Lesley Watts (pictured below second and third from the right, celebrating the pub's tenth anniversary).
Over the past
decade the pub has expanded considerably to accommodate its ever-increasing popularity. There is a large outdoor split-level seating area, fully utilised in those warm summer months. The former function room upstairs has been completely redecorated and converted to an additional public room which comes into its own on busy weekends. Downstairs the pub is multi-roomed and split-level, including a pool room and well-appointed outside smoking area.
The ever-changing range consists of up to 14 cask plus 12 keg and keykeg beers. Salopian Oracle is a permanent beer and there is also one of the highly-acclaimed Tiny Rebel beers regularly available. There are always at least one, and often up to three, cask dark beers available.
The Magnet has always had a strong charitable side with Monday cheese nights, and also has books and pump clips for sale to raise money for good causes.
This multiple award-winning pub continues to have beer quality and choice at its heart — attributes which will certainly be on display when our Pub of the Year award is NOT presented on the evening of April 11. Lee tells us that one or two specially-aged beers may well be available on the night.
* This article was written before, the current government measures to counter the Corvid19 pandemic were announced, in preparation for the April/May edition of Opening Times - dates and events will differ when actually presented.
Runner-up Pub of the Year 2020 23 Millgate, Stockport SK1 2LX Map
The Stockport & South Manchester CAMRA Runner-Up Pub of the Year for 2020 is

Arden Arms

, Millgate, Stockport.
The runner-up is the Arden Arms on Millgate in central Stockport, a classic pub with a fine reputation for both its beer and its food.
There was a sense of nervousness in August 2017 when Geoff and Maria Troughton took over what is, by any standards, a local institution. When Opening Times interviewed them shortly afterwards Geoff told us, "We're not here to change anything: we just want to run a great pub." And that is what they've done.
Any changes have been incremental and have only added to the pub's appeal (its historic interior has earned it a place on CAMRA's National Inventory of Heritage Pubs). A redecoration has made the pub look brighter, while cellar improvements show in the consistently high standards of the Robinsons beers. Many say the beer is now better than ever, and the Arden is certainly a real flagship for the brewery.
The food remains varied and excellent, and the pub's reputation for music is also undiminished, with live bands in the outside courtyard every Friday and Saturday night.
Cider Pub of the Year 2020
Petersgate Tap, Stockport
19a St Petersgate, Stockport SK1 1EB Map

The Stockport & South Manchester CAMRA Cider Pub of the Year for 2020 is

Petersgate Tap

, St Petersgate, Stockport.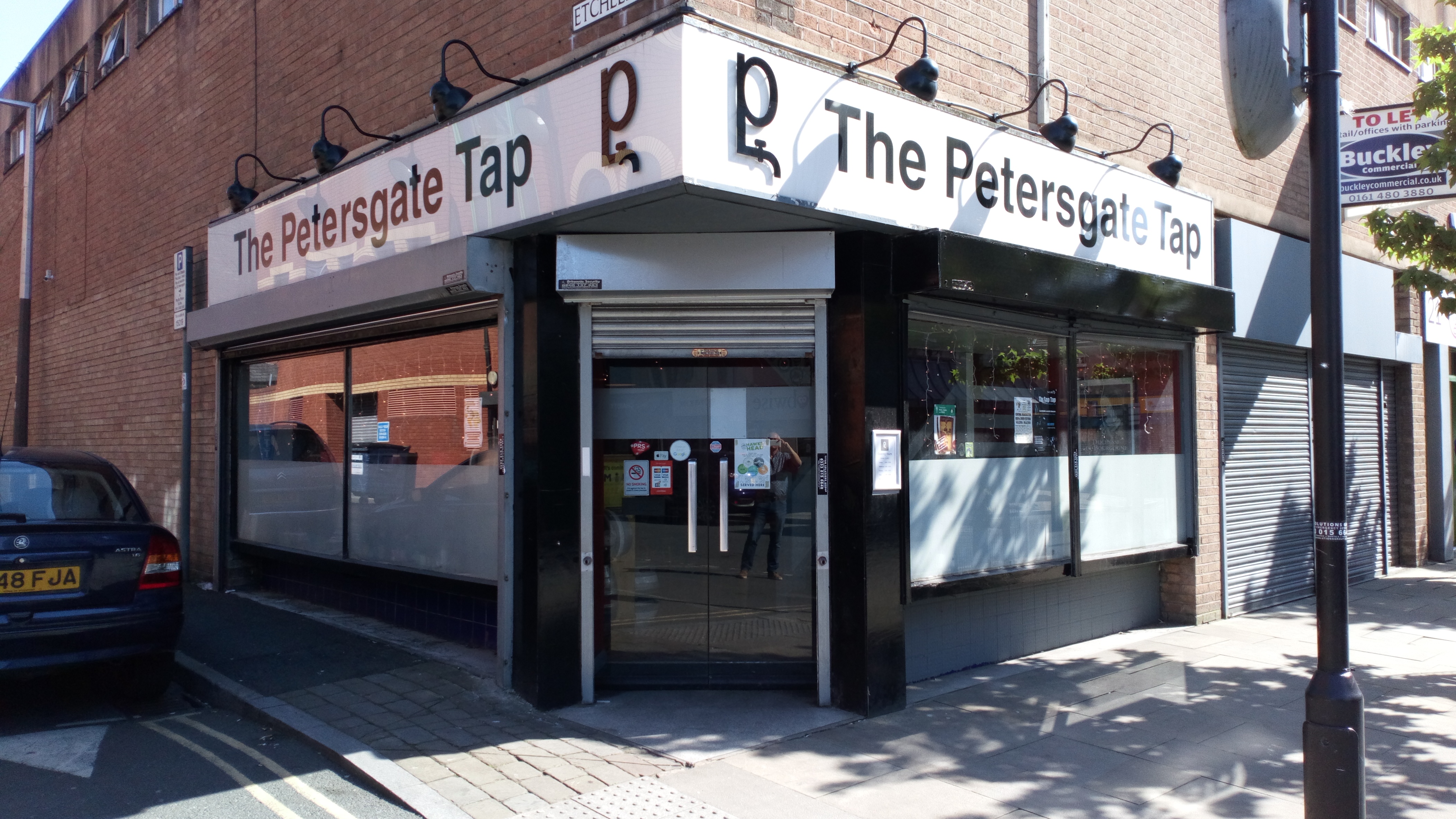 It's three in a row for the Petersgate Tap, which is once again the Stockport & South Manchester CAMRA Cider Pub of the Year.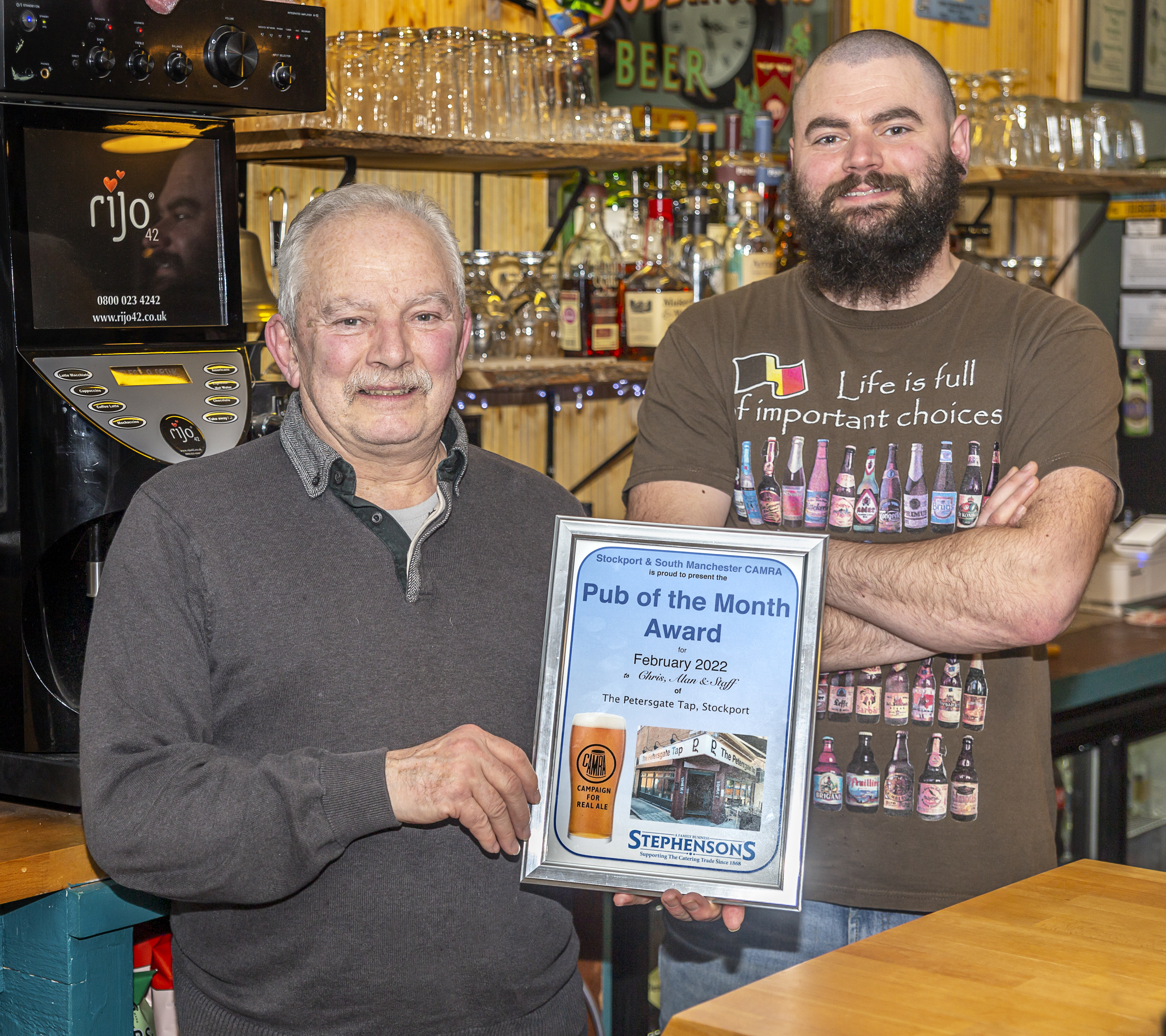 Set over two floors, the Tap opened in September 2016 since when it has settled in to become a firm favourite with local beer and cider enthusiasts. Father and son team Alan and Chris Gent are passionate about their beers and ciders. Dark (and usually rather strong) beers are something of a speciality while the cider and perry offer has gone from strength to strength.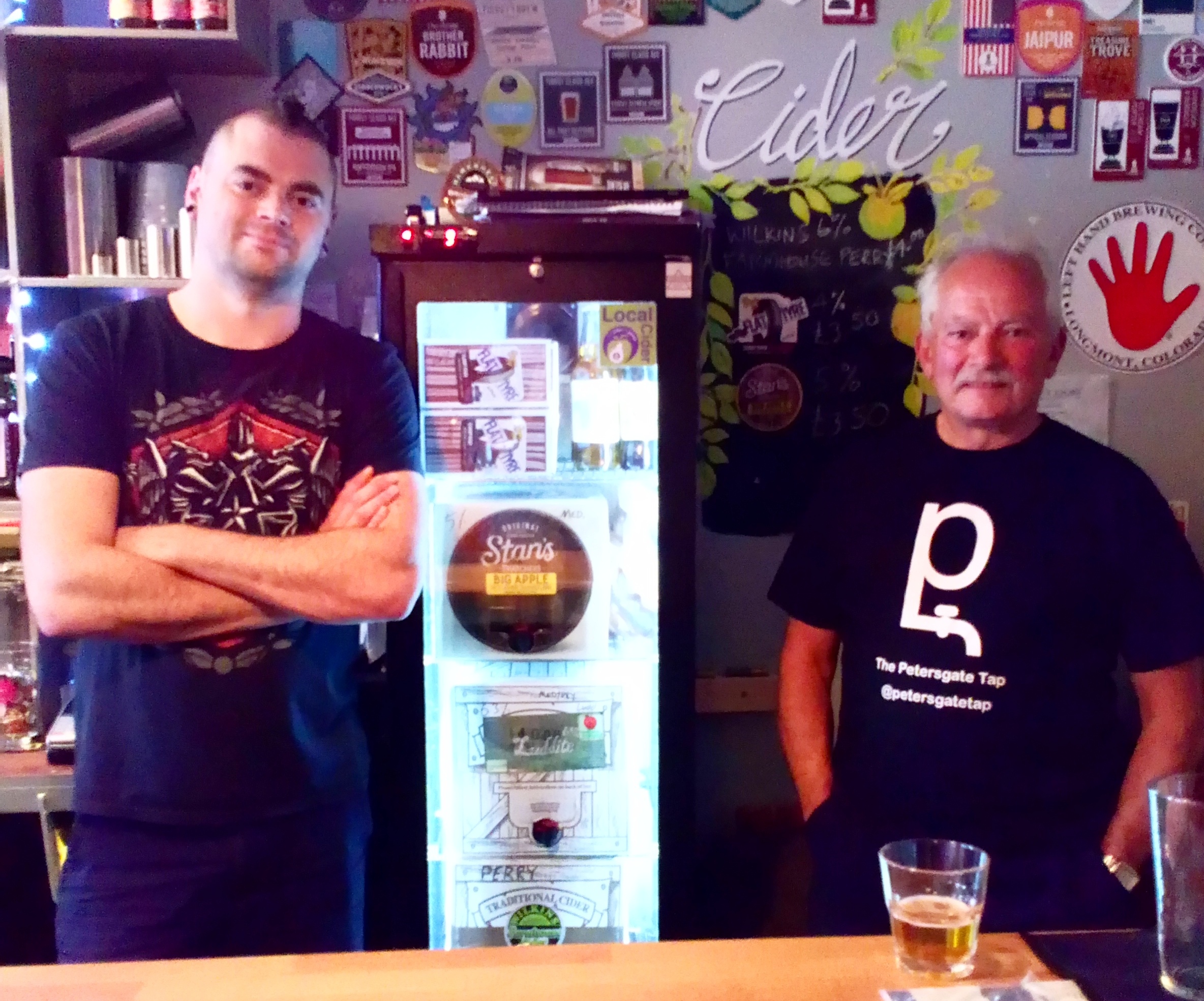 The pub now offers no fewer than eight traditional ciders and perries - some from local producers such as Dunham Press (Dunham Massey) and SiDa (Macclesfield) while others are from further afield. You can have your cider at either fridge or cellar temperature, too.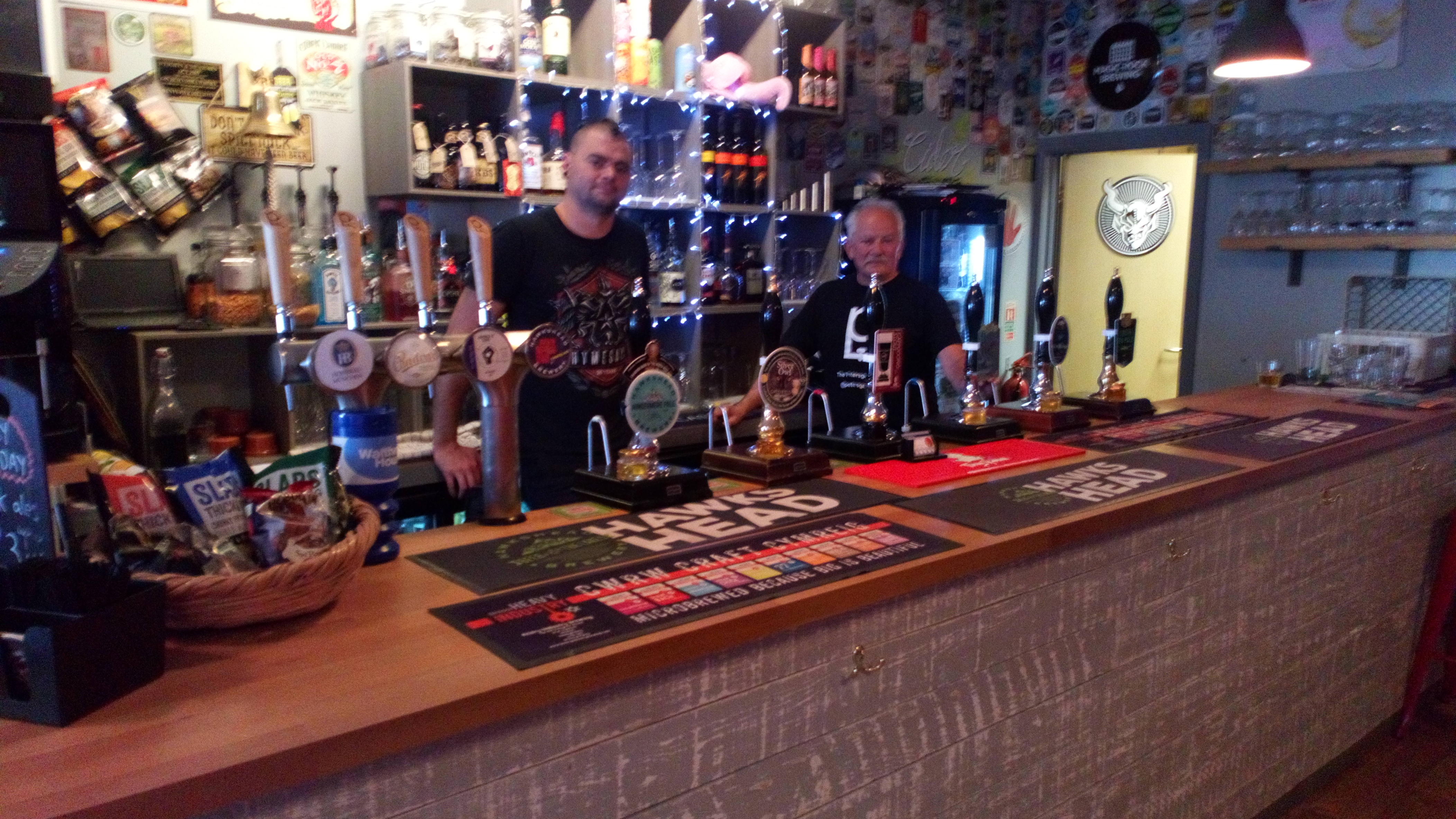 Last time the pub went on to win the regional title too and co-owner Alan Gent is both delighted with the award and looking forward to the county contest this time, as well.
He told Opening Times: "Having worked on our cider offer all year, we're very pleased that this has been recognised once again by the branch. We usually have a number of local ciders available (Dunham, Madhatters, SiDa) and we see a steady interest in people drinking cider. Now on to the Regionals again to see what we can do!"
Club of the Year 2021
Albert Club - Stockport and South Manchester Club of the Year
Old Lansdowne Road, West Didsbury, Manchester M20 2PA Map
Set in the heart of
West Didsbury on Old Lansdowne Road, the Albert Bowling and Tennis Club is a real hidden gem, surrounded by mature trees and overlooking a superb crown bowling green.
The Victorian club house oozes character with two rooms, the main bar and members' lounge. A small library and a television area are included in the main bar. There are two full sized snooker tables within the members' lounge and it features a hatch through to the main bar. Upstairs is a table tennis room. They run a beer festival in early June, together with community events throughout the summer and beyond. Guests are welcome, as long as signed in. The beer choice is superb with two regular beers, Wainwrights and Youngs Original, which are normally complemented with two guest beers.
As one reviewer wrote on Tripadvisor "A great place to play sport and socialise after (or socialise without playing sport!) with friendly staff, low prices, historic building, well maintained tennis courts and beautiful bowling green." So no wonder we voted this our Club of the Year!
The presentation will be on Friday 5th November 7:30pm onwards. It is within easy reach of both West Didsbury and Burton Road tram stops as well as buses like the 23 from Stockport, so please come along, show your support and have a grand time.
Stagger diary

Many staggers have been updated and there are a few new ones. Thus some links below are still pointing to older accounts which may not match exactly the current itinery.

Staggers are arranged with the most recent at the top.

Month

Stagger

Date

Start Point
7:30 unless stated

Mid Point
8:30 unless stated


2021

November

19th

Didsbury
852 Wilmslow Road, M20 2SG

Crown
770 Wilmslow Road, M20 2DR

October 2021

22nd

2020

February

21st

Lounge About
424 Palatine Road, M22 4JT

January

17th

Alexandra
195 Northgate Road, SK3 9NJ

Royal Oak
124 Castle Street, SK3 9AL

2019

December

21st

Blossoms
2 Buxton Road, SK2 6NU

November

22nd

Folk Café Bar
169-171 Burton Road, M20 2LN

October

18th

September

20th

Project 53
22 Market Place, SK1 1EU

August

16th

Three Bears
Jackson's Lane, SK7 5JH

Shady Oak
Redford Drive, SK7 3PG

July

19th

Grafton Arms
27 Grafton Street, M13 9WU

June

21st

P5
47 Station Road, SK8 7AA

Kings Tap
11-13 Station Road, SK8 5AF

May

17th

Botanist
1d School Lane, M20 6RD

Station
682 Wilmslow Road, M20 2DN

April

19th

Royal Oak
22 Stockport Road, SK8 2AA

March

22nd

Friendship
353 Wilmslow Road, M14 6XS

February

22nd

Rising Sun
2 Buxton Road, SK7 6AD

January

18th

Puss in Boots
147 Nangreave Road, SK2 6DG

Finger Post
434 Hempshaw Lane, SK1 4QA

2018

December

21st

Blossoms
2 Buxton Road, SK2 6NU

November

16th

Didsbury
852 Wilmslow Road, M20 2SG

Crown
770 Wilmslow Road, M20 2DR

October

19th

Plough
927 Hyde Road, M18 7FB

Royal Oak
114 Cross Lane, M18 8NZ

September

21st

Carousel
156 Reddish Road, SK5 7HR

August

17th

Station Hop
815 Stockport Road, M19 3BS

July

20th

Blossoms
2 Buxton Road, SK2 6NU

Wheatsheaf
205-209 Higher Hillgate, SK1 3RB

June

22nd

Orion @ 8pm
8 Burton Road, M20 3ED

Victoria
438 Wilmslow Road, M20 3BW

May

18th

Midway
263 Newbridge Lane, SK1 2NX

Railway
1 Avenue Street, SK1 2BZ

April

20th

Kenilworth
Cheadle Road, SK8 5DX

Church Inn
90 Ravenoak Road, SK8 7EG

March

16th

Elizabethan
33 Heaton Moor Road, SK4 4PB

February

16th

Woodstock Arms
139 Barlow Moor Road, M20 2DY

January

19th

White Hart
90 High Street, SK8 1PX