May's Pub of the Month - P5 in Cheadle Hulme
Thursday 26 May 2022
47 Station Road, Cheadle Hulme SK8 7AA Map

The Stockport & South Manchester Pub of the Month winner for May is the P5 (formerly Platform 5; Cheadle Hulme; Junction) in Cheadle Hulme. Mike Wilson tells you all about it.
Seasoned CAMRA members will recall the slog of yesteryear, going from pub to pub in search of a decent beer. Back in the seventies (or earlier!) it was a matter of steering clear of the large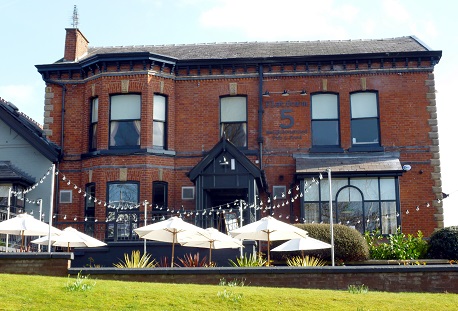 red signage of 'Grotneys' and the like. Where to go for refuge but one of our local family brewers' establishments, which could be relied upon to serve a decent pint of bitter or mild or, if you were feeling adventurous, a pint of mixed.
There is something about P5 that is reminiscent of the seventies, despite its various refurbishments. The Junction, as was, had quite a reputation; not always for the best of reasons! P5 is very different now but you can still get a pint of bitter, a mild or even a mixed (although you would doubtless have to mix it yourself these days!). In fact, it was the recent news that the excellent Holt's mild was in superb form that encouraged members to rediscover the delights of P5 just a few weeks ago. In our search for the latest new beer, let's not overlook family brewers, such as Holts, who have faithfully served the interests of real ale consumers for longer than we can remember — and who did much to support their tenants during the Covid lockdowns.
P5 serves a wide clientele, from families using the extensive dining area to football watchers (without the screens being intrusive). There is still ample space for anyone just wanting to pop in for a quiet drink and a chat.
Manager Dominic Henshaw and his team make great efforts to ensure the beer is kept in top form and they manage to offer a full range of Holts, including the mild, bitter, IPA and Two Hoots, as well as occasional beers from Bootleg.
Join us on Thursday 26 May from 8.00pm for your pint of mixed! P5 is well served by public transport. It is next door to Cheadle Hulme station and in addition buses 313 and 42B will drop you very close by. It's also just a short walk from the 368 route.

The Pub of the Month award is sponsored by Stephensons, a local family firm that has been supplying the local pub and catering trade for over 140 years. Check out their web site by clicking on their logo.

Weekday Wanders
July's Weekday Wander — Hayfield
11:30am Tuesday 5 July 2022
Now the good weather is (should be!) here it is off into the countryside for sun, views, beer and the option of a short walk, so something for all.
We will be travelling on the 358 bus from Stockport to Hayfield, then comes our first decision, wait 14 minutes for a bus connection or opt to walk to our first pub. The shorter walk (unfortunately alongside the busy A624) is about 3/4 mile, but there is an alternative field footpath of a mile. Depending on how fast we walk, and how late the bus is, either option could reach the Lantern Pike first. As we will be catching the bus back, and the bus only takes 25 minutes before returning (but thankfully is hourly) we will be spending around an hour and twenty minutes there. Plenty of time to eat.
It would have been nice to have witnessed the Hayfield Sheepdog Trials, which usually takes place across the road in September, but unfortunately they are cancelled for 2022.
Back in Hayfield the three pubs can actually be done in any order, as they are all within 5 minutes walk of each other. However there is a second decision to be made, how long we stay in each pub. The buses back are at 16:50, 17:44 (via New Mill Newtown) and 18:10, so it is either a brisk pint in each pub, a less frantic drink but a more exotic return or a leisurely pint all around. For those really adventurous the busses are hourly back so there is an option to take in the Sportsman, a 10 minute/half a mile walk along the Kinder Road (but don't overrun and end up on Kinder Scout!). Beware the last bus leaves 10 minutes early, at midnight and not 00:10 — how's that for a service!
Unfortunately the final outlet only opens Thursday to Sunday, so an overnight stay, or revisit tomorrow, will be required to get the full card of Hayfield pubs.
From
To
What
Address
Food
11:30am
11:35am
Stockport Mersey Square bus stop G (up the slope towards St Peters Square)
11:35am
12:29pm
Bus 358 for Hayfield via Marple (12:05) and New Mills (12:18)
12:29am
12:50pm
Walk to Little Hayfield
12:43pm
12:46pm
Bus 61 for short hop to Little Hayfield
12:43pm
12:46pm

Lantern Pike

45 Glossop Road, Little Hayfield, SK22 2NG
Noon - 3pm
2:13
2:15pm
Bus 61 for short hop back to Hayfield
Swift Tour
Leisurely Drink
From
To
From
To
Pub
Address
Food
2:18pm
3:15pm
2:18pm
3:35pm

Royal Hotel

Market Street, Hayfield, SK22 2EP
Noon - 2:30pm
3:15pm
4:00pm
3:35pm
4:50pm

George Hotel

14 Church Street, Hayfield, SK22 2JE
Noon - 9pm
4:00pm
4:45pm
4:50pm
6:05pm

Kinder Lodge

10 New Mills Road, Hayfield, SK22 2JG
No
4:50pm
5:40pm
Bus 358 all the way to Stockport
5:44pm
6:20pm
Bus 61 to New Mill Newtown (6:00pm) then train to Stockport
5:44pm
6:23pm
Bus 61 to New Mill Newtown (6:00pm) then SkyLine 199 bus to Stockport
6:10pm
7:00pm
Bus 358 all the way to Stockport
Tentative August Weekday Wander — Greenfield
11:30am Wednesday 3 August 2022
This is currently [May] tentative because timetables are changing over the summer. Train timetables are planned many months in advance, but rail companies are having to cancel specific services at short notice because of staff shortages. Also, bus companies often revise their timetables over the summer holidays by leaving a few minutes early.
We are off into the hills again for this Weekday Wander. Situated on the fringe of Greater Manchester, Greenfield used to be part of Gods Own Country as it was part of the West Riding of Yorkshire, so be on the lookout for WRCC markers on public structures. Many of the older 17th Century houses still display the distinct, many windowed, upper floors which indicate they were used for hand-loom wool cloth weaving. I use the term wool cloth, because whether they were producing woollen fabric [soft and springy like tweed] or worsted [smooth and lustrous used for suits] isn't recorded. (For more on the wool/worsted differences see thedreamstress.com or www.huddersfieldtextiles.com.
Though not dating back as far in time, three of our objectives today could still be described as "olde worlde". The first of these, the Wellington, is an end of terrace local, with darts, dominoes and cribbage all in evidence. Because there is a difference in the frontage with next door, and the stone better dressed, I speculate that this is a later addition rather than being part of the original terrace - discuss. I assume the pub is named after the Duke and not his footwear, but who knows Food is available here, but only Wednesday, Friday and Sunday, hence the date of our visit.
Our next destination, The King Willian IV, known locally as the King Billy, is set at right angles to the main road. I have no idea what connection the King would have had with Greenfield, unless the pub opened around the year of his coronation. With both a red post AND phone box outside, along with a 'yard' and what is described as a cobbled area on WhatPub.com, it is the epitome of a country pub. This misunderstanding between cobles (rounded stones usually recovered from a river bed) and setts (square dressed quarried stone) is not uncommon, but unforgivable to a pedant. With two rooms and four beers this isn't a typical Star (Heineken) pub, so they must be doing something right to avoid the eyes of the corporate management. The King Billy also purveys food, but only after 5pm today, so unless you plan staying a little longer [or coming back?] you will have to miss out.
The walk to our next establishment, Donkeystone Brewery Tap, would have been a lot shorter until September 2021, as the original site was behind the houses on the opposite side of the road from the king Billy. Today we must return towards the station and behind the Tesco we enter our only modern building, an industrial unit housing the brewery tap. No old world accoutrements here, just industrial chic, but with plenty of beers on offer, not just Donkeystone's own. Food may be available here, but I'm not sure when [depends which web page you consult!]
Returning towards the station and our final destination, but before we enter, take note of the interesting building to the right of the pub. With its obvious loading doors, this must have been some form of manufactory, but for what, and with such a small footprint I don't know. As the buildings here are two stories on the front street, but four at the back, the extra front floor seems a little greedy.
Our final establishment is the Railway, and there is no mystery how it got its name. Again an elderly building, was it here before, or was it built/opened to take advantage of the business from the station opposite? There is a simple two room layout, with an accompanying beer garden offering views across the valley. Being on the Transpennine Ale Trail [or whatever the Manchester to Leeds rail pub crawl is now called] weekends can see a sudden influx of people as the latest train disgorges its revellers. Hopefully things will be a little calmer on a midweek afternoon.
As we board our train home, take a moment to inspect Greenfield Station. Interestingly Greenfield station is the only rail station remaining of the around 25 formally in the current Oldham Borough. Opened on 1 August 1849 on the same day as was the section of line between Huddersfield and Stalybridge. This was remarkably early considering work on the single line Standedge tunnel was only started in 1846. It did have the advantage of the adjacent canal tunnel which acted as a supply route and had already proved the ground through which the tunnel was bored. Compare this to the Elizabeth line in London! Look carefully at the station and you may be able to detect a former bay platform at the Manchester end. This was the terminus of occasional trains from Oldham, but as that line closed to passengers in 1955 it isn't obvious. Another 'claim to fame' is that it is one of only a handful of stations which are not fully step-free accessible in Greater Manchester, though the engineering problems entailed creating this from the Huddersfield platform can be appreciated.
Arrive
Leave
Pub
Address
Food
11:30am
11:36am
Stockport Rail Station for 11:36 train to Piccadilly
11:46am
11:58am
Piccadilly Station for 11:58 train to Huddersfield
12:12pm
12:12pm
Greenfield Station
12:30pm
1:55pm

Wellington Inn

29 Chew Valley Road, Greenfield, OL3 7AF
12:00noon
2:00pm
3:00pm

King William IV

134 Chew Valley Road, Greenfield, OL3 7DD
5:00pm
3:10pm
4:20pm

Donkeystone Brewery Tap

Wellington Indust Est, Wellington Rd, OL3 7AQ
No
4:30pm
5:35pm

Railway Inn

11 Shaw Hall Bank Road, Greenfield, OL3 7JZ
No
5:40pm
5:45pm
Greenfield Station for train to Piccadilly arrive 6:10
6:10pm
6:27pm
Piccadilly Station for 18:27 train to Bournemouth arrive Stockport 18:35
Northenden
Tonight's meander
is around what is an ancient settlement which has now been subsumed into the bounds of Manchester. The City Council used the Local Government Act 1929 to extend its boundaries to encompass Northenden in 1931. This was as part of their plan to build the garden city of Wythenshaw(!) to house people from the inner city inter war slum clearances.
There are two theories of where the name Northenden comes from. A settlement called Norwordine was mentioned in the Domesday Book of 1086; its name deriving from Anglo-Saxon Norþ-worþign or "north enclosure". Another theory is that the name means "northern dale or valley", presumably because it was near the River Mersey. This begs the question whether there was a corresponding Southenden somewhere in the Style Ringway area - any suggestions. At times Northenden has be referred to as Northen causing difficulty in tracing its history.
We start our meander this evening at
26 Longley Road, where we will find the Farmers Arms. A longstanding hostelry where the front three low-ceilinged rooms still have the feel of a traditional pub, while towards the rear a large room is mainly for dining which is popular with families. Being owned by John Barras, it offers beers from national suppliers. Cask ale sales have gone up and down, being dropped altogether in 2015, but re-instated in 2016 and currently supplied by Marston's.
Now a slight departure from a normal stagger, we are going to call
in the Wythenshawe Cricket & Sports Club, a previous winner of our Club of the Year. As we are visiting in the summer, expect to see (or evidence of) cricket being played, while in the winter months rugby and football are the games. And as to who takes precedence in April and May I have no idea!
It is but a short walk
back towards Palatine Road and our 8:30pm meeting place. At 424 Palatine Road we find Lounge About, a bar of two halves, well two shops really. The left-hand half is set out with tables for drinking or dining, whilst through the wall to the right the ambiance changes markedly. Three huge tables, constructed from wooden sleepers, with accompanying benches create a more rustic feel. Decor is very much cafe-like with lots of mono photos and some individual paintings. Meanwhile at the rear is a beautiful little, secluded beer garden where, if the weather permits, you can get away from the bustle of Palatine Road. Whoever tends this garden does so with great care as it's a real picture. There is a constantly changing supply of real ale thus keeping the range an ongoing surprise to customers.
We now start a long trek north along Palatine Road where we will encounter a variety of bars. First up, at 387 Palatine Road, we will be pressing our noses against the windows of Anton's (formerly Bar Bibo). Having been converted from shop premises, it was opened around 2005 and is decorated in a modern spartan style. Unfortunately it is a keg-only bar having never been known to have served real ale over its whole year life.
Continuing north, our next encounter is with Escape 2 located at 377 Palatine Road. Opened around 2005 it was, like Bar Bibo, converted from former shop premises. Having been re-named from Escape after its 2013 refurbishment it is again devoid of real ale. Oh dear! Onwards we go.
Continuing travelling north we reach Grapes Lounge Bar located at 297 Palatine Road, approximatly where the gent with parcel is in the 1971 picture at the top left of this page. Opened in 2015 as the Grape Escape Lounge Bar having been converted from a former Chinese take-away. Previously two or three cask ales were on offer in the long, mood-lit bar area, complemented by an outside drinking area on the street frontage. Will the weather be clement enough to allow alfresco drinking this evening? Well, "No", as there is currently no real ale being sold, so onward.
Our penultimate port of call requires a short walk back towards the centre of the village(?). Around the side of the Grapes Lounge Bar is Mill Lane, proceed along until it morphs into Boat Lane. At the end stands the Crown Inn located at 19 Ford Lane. This is probably the oldest (and smallest) pub in Northenden and is/was often called the Corner Pin. A former Boddingtons
house, now owned by Punch Taverns, that had not sold any cask ale for some years. That is until 2016 when an entrepreneurial couple took on the lease. Back came cask ale, and the place was given a smart and very thorough make-over. Two small yet traditionally decorated rooms flank the central bar and a small outside drinking area beyond this completes the accommodation. Unless the weather is very summery I doubt we will be sampling the delights of the latter tonight.
While savouring your pint,
contemplate the name of the road outside, Ford Lane. Northenden was on a major (and very old) "Salt Road" from Cheshire towards Manchester and thence into the West Riding of Yorkshire. Unfortunately there was no bridge over the Mersey between Sale and Stockport, until Bonnie Prince Charlie's army built a temporary bridge over the Mersey in 1745 (approximatly where Manchester Road now crosses into Didsbury). The ford at Northenden was unusual because its northern and southern ends were not opposite each other, so people using the ford had to wade about 500 feet along the riverbed. In 1901 pedestrians got a better deal when the Simon's Bridge was built at the northen end of the ford. Unfortunately users of the ford got a worse deal in the 1980s when the flood prevention work carried out all along the Mersey made fording a thing of the past.
To reach our final destination we need to proceed to Church Road, there to discover Northenden Untapped. This is a new bar opened November 2019 in former shop premises in an under-pubbed area of the town. The inspiration to open the bar was due to the changing local demographics, with many young professionals moving into the area, but finding little in the way of cask or craft beers to drink. To alleviate this a three handpump "wicket" is complemented by keg/craft beer taps behind, and a selection of canned craft beers.
NB. the bar does NOT accept cash, all payments by CARD only please.
Below, clicking on Map will call up a Google travel map with that location automatically set as the destination. Insert your current location (post code?) as the start and choose a travel mode (public, car, cycle or foot) and discover your travel options.
Following THIS LINK will take you to the Transport for Greater Manchester website for current travel information.
Northenden

Timing

Pub Name

Address

Travel

Notes

7.30pm Start point:

26 Longley Lane
M22 4JR

Then

78 Longley LaneM22 4JF

8.30pm Mid point:

424 Palatine Road
M22 4JT

Followed by

387 Palatine Road
M22 4FY

No Real Ale

377 Palatine Road
M22 4FY

No Real Ale

297 Palatine Road
M22 4HH

No Real Ale

19 Ford Lane
M22 4WE

Finishing at:

67 Church Road
M22 4WD
View Northenden Walkabout in a separate window.
Updated April 2022


Images on this page are thumbnails from various sources and no right is claimed. If you own copyright and wish either removal or acknowledgement please advise me and I'll promptly follow your wishes.
Pub of the Year 2022
8 Mellor Road, Cheadle Hulme, SK8 5AU Map

The Stockport & South Manchester CAMRA Pub of the Year for 2020 is the

Chiverton Tap

on Mellor Road, Cheadle Hulme.
Once again there was a close vote when it came to deciding the Stockport & South Manchester CAMRA Pub of the Year. However there can only be one winner and for 2022 it is the Chiverton Tap, on Mellor Road in Cheadle Hulme.
Opened in May 2015, the Chiverton Tap was initially a one-roomed pub, and one of the first micropubs in Stockport. In 2017, it was voted Stockport & South Manchester Pub of the Year and was subsequently runner-up in the Greater Manchester Pub of The Year awards.
2019 saw 'Chiv Next Level' upstairs seating and 'Chiv Outback' outside drinking areas opening. This completed the takeover of the whole of this historic building, a former draper's shop from the turn of the 20th century, trading under the name of Arthur Chiverton.
Lockdown saw many
hospitality business owners face the greatest challenges of their careers and, for the Chiverton Tap, this was no exception. But, rolling forward, the Chiverton Tap is now back operating as it was always intended, as a pub, with bar service, a community feel and the ability to chat unimpeded with the locals.
Mary and Bob Ellis, who opened the pub, together with Andrew O'Shea, who is now operating their sister pub the Mounting Stone in Bramhall, remain true to their original ethos. They said "Whilst we personally enjoy many craft beers from brewers all over the world, our mission has always been to promote and celebrate all that is great on the British craft ale scene, and to source the best from the best of small breweries all over the country.
"It's always such a buzz to see the fruits of that labour, the enthusiasm of the regulars to try something new, their pleasure when a previous favourite reappears on the pumps or the divine joy of a convert who realises there is a whole world of great British beer out there to be tried. We will never get complacent because there are so many ways this business presents challenges and we will always want to rise to them. We do what we love, and we love what we do. It has to be love, otherwise it just wouldn't work".
Join us for the presentation on Saturday 21 May at 4pm. The Chiverton Tap is served by buses from Stockport (313 and 368) and Manchester (42B). Mellor Road is also directly opposite Cheadle Hulme station.
Runner-up Pub of the Year 2022
This year's runner-up is Hydes' Fletcher Moss on William Street in Didsbury.
This thriving pub combines a traditional layout at the front, along with an extended section at the back, opening into an attractive beer garden, which helped bring in many new customers when indoor drinking had been prohibited.
Real ale enthusiast Martin Devlin is the manager, so cask is king here. Six or seven handpumps dispense a comprehensive range of Hydes beers, kept in superb condition. Such is the popularity of the Fletcher Moss you need have no concern that, if you happen to catch the last pint out of the cask, its quality will be in any way inferior. The fast turnover guarantees top quality.
Look out for the presentation date which had yet to be arranged.
Cider Pub of the Year 2022
Petersgate Tap, Stockport
19a St Petersgate, Stockport SK1 1EB Map

The Stockport & South Manchester CAMRA Cider Pub of the Year for 2022 is

Petersgate Tap

, St Petersgate, Stockport.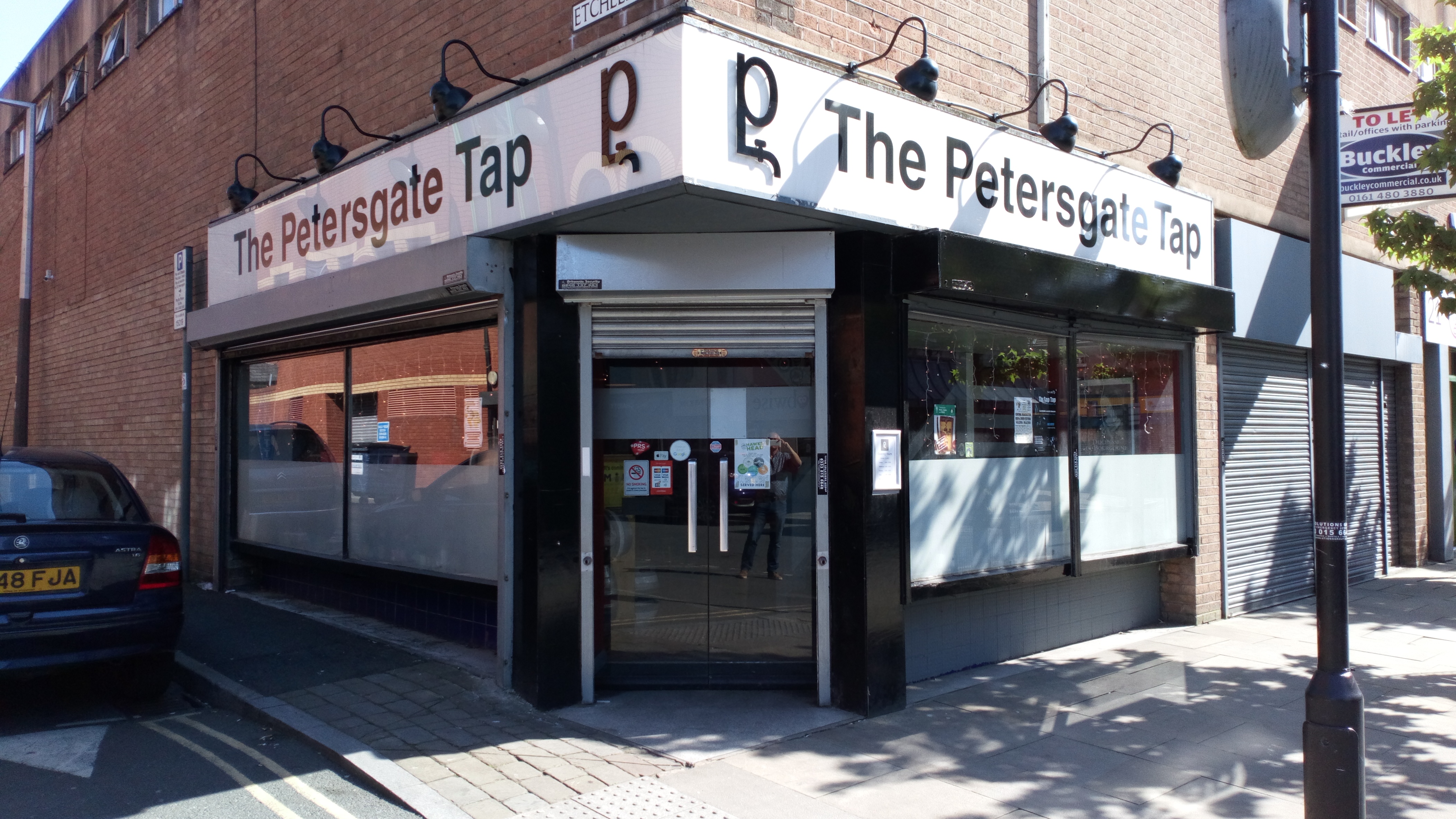 It's four in a row for the Petersgate Tap, which is once again the CAMRA Stockport & South Manchester Cider Pub of the Year.
Set over two floors, the Tap opened in September 2016, since when it has settled in to become a firm favourite with local beer and cider drinkers. Father and son team Alan and Chris Gent are passionate about their beers and ciders. Dark (and often quite strong) beers are something of a speciality, while the cider and perry selection has gone from strength to strength. No fewer than eight traditional ciders and perries are now regularly available.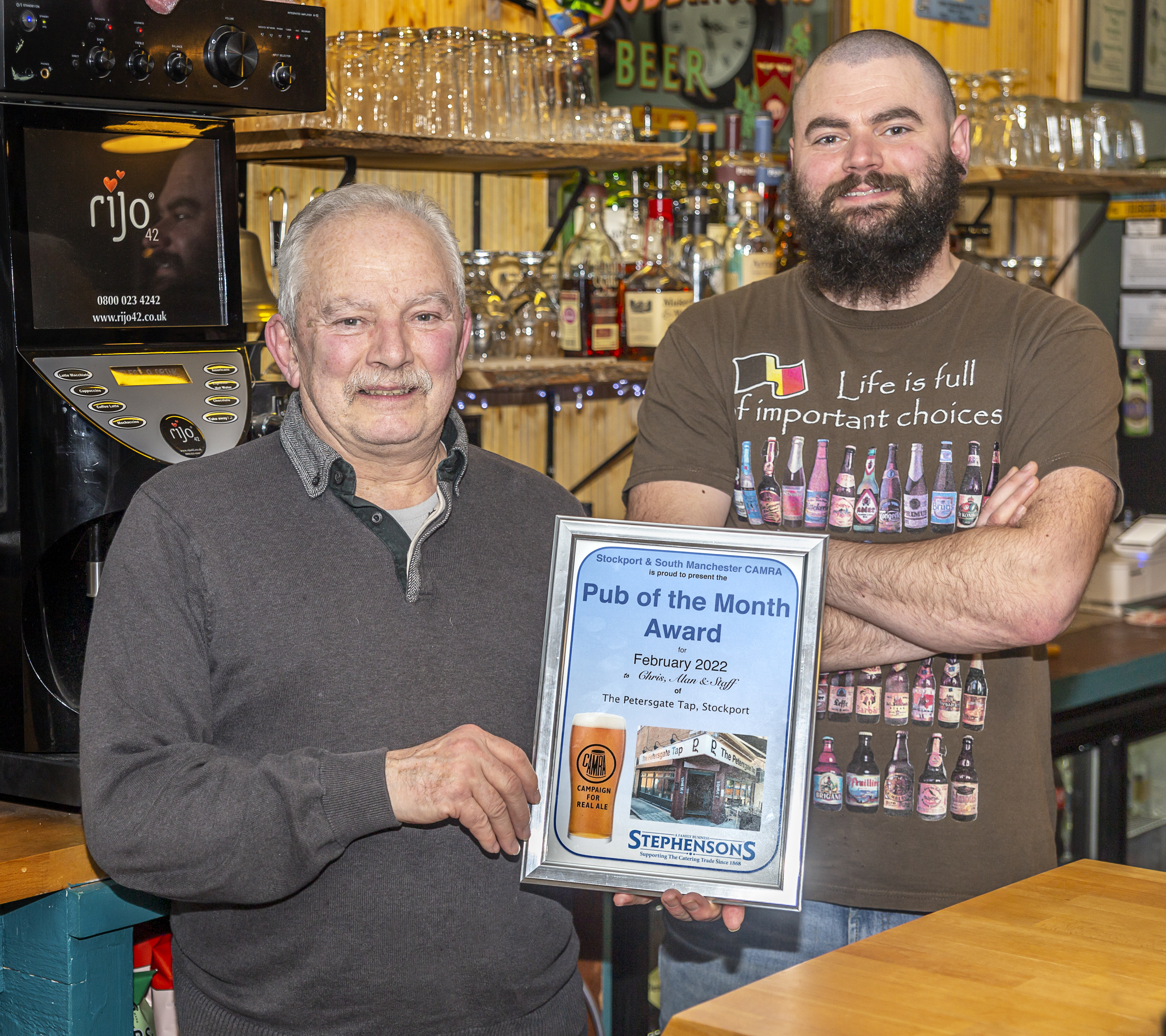 While local producers feature here, such as Dunham Press (Dunham Massey) and SiDa (Macclesfield), there is also an accent on sourcing high-quality ciders and perries from leading producers further afield. Top names such as Ross on Wye, Gregg's Pit and Hecks now often feature on the cider list. All of the ciders are either fridge- or cellar-cooled too.
Alan Gent told us: "We are obviously very pleased that our efforts on cider and perry have been recognised by the branch. This year, we have continued to diversify our range and stockists, sadly losing the legendary (cider supplier) John Reek along the way. We're looking forward to contending for the regional title in the near future".
Club of the Year 2022
Ladybarn Social Club - Stockport and South Manchester Club of the Year
13 Green Street, Ladybarn, Manchester, M14 6TL Map
The Stockport & South Manchester Club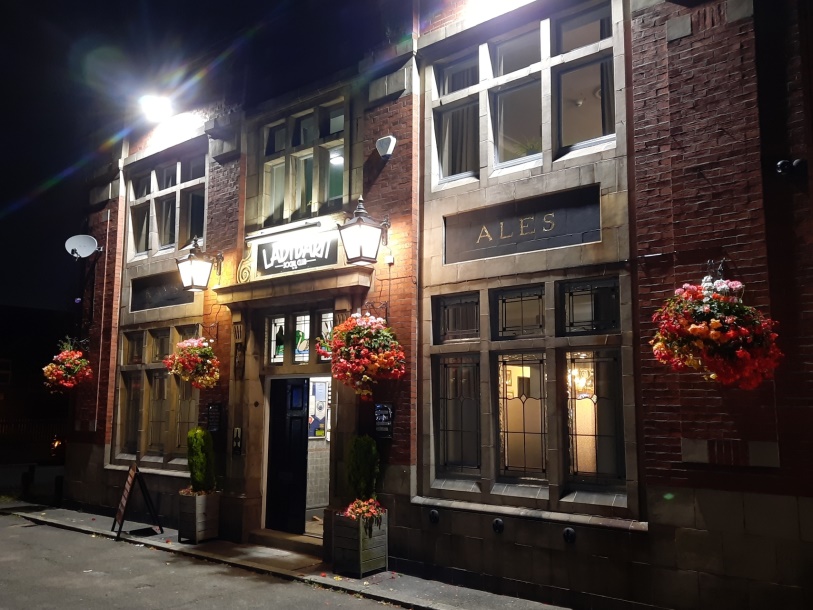 of the Year is the Ladybarn Social Club, on Green Street, in Ladybarn. This prompted a long-planned visit and chat with club secretary, and self-confessed cask ale freak, Phil Cowtan.
The club occupies a building that was originally the White Swan pub - a Robinsons house, although originally belonging to Kay's Atlas Brewery of Ardwick. When Robinsons closed the pub around ten years ago, it was acquired by the club committee, which had recently sold its nearby premises for housing. It has gone from strength to strength ever since, and has also been the Stockport & South Manchester Club of the Year in 2015 and 2017.
The past 18 months have seen considerable changes, though. During the first lockdown, some £30,000 was spent improving the building and its facilities. There was a major refurbishment upstairs (where you will find two full-size snooker tables), downstairs the furniture was replaced, and outside the building was made watertight. The opportunity was also taken to restore the "Kay's Ales" signage that can be seen on photographs taken in the 1950s.
There have also been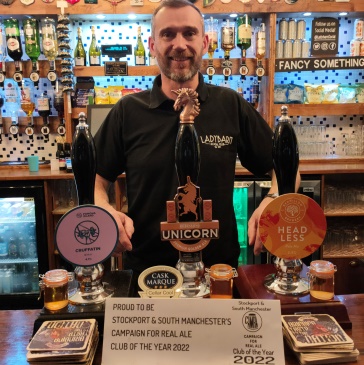 significant changes in the cask beer range. There was previously a tie to Carlsberg Marston's, which was finally bought out in 2019. Latterly this has enabled Phil (pictured left), who also looks after the cellar, to become rather more adventurous. There are three cask beers on the bar. Permanent is Robinsons Unicorn, which is very popular with many of the regulars. This is joined by two ever-changing guest beers, usually obtained from small, local brewers. Phil makes a point of visiting Manchester pubs to see what's new and what's selling well. He's a big fan of the new Steelfish Brewing (see page 15), whose products have been very well received.
Aside from the popular Unicorn, Phil aims to have one darker beer and one pale beer on tap. He has also been surprised how well-received some of the newer unfined and hazy cask beers have been. He also tells us that cask in general has really taken off since the club properly reopened in July last year.
The club currently has 300-320 members, and this is steadily increasing. It only costs £20 a year (and just £10 if you are over 65). Non-members can pay three visits before being asked to join.
The presentation date hasn't yet been arranged but it should be in the next couple of months.
Stagger List

Staggers are arranged in alphabetic order.

Clicking on the Stagger Name will lead to a detailed listing of venues included.

Stagger

Start Point

Mid Point

Three Bears
Jackson's Lane, SK7 5JH

Farmers Arms
254 Burnage Lane, M19 1EN

Beer Shop
13 Kingsleigh Road, SK4 3QF

Royal Oak
22 Stockport Road, SK8 2AA

Kenilworth
Cheadle Road, SK8 5DX

Church Inn
90 Ravenoak Road, SK8 7EG

Cross Keys
10 Adswood Road, Cheadle Hulme SK8 5QA

March Hare
Mill Lane, Cheadle Hulme SK8 5PG

Grafton Arms
27 Grafton Street, M13 9WU

Botanist
1d School Lane, M20 6RD

Station
682 Wilmslow Road, M20 2DN

Didsbury
852 Wilmslow Road, M20 2SG

Crown
770 Wilmslow Road, M20 2DR

Gateway
882 Wilmslow Road, M20 5PG

Alexandra
195 Northgate Road, SK3 9NJ

White Hart
90 High Street, SK8 1PX

Plough
927 Hyde Road, M18 7FB

Royal Oak
114 Cross Lane, M18 8NZ

Rising Sun
2 Buxton Road, SK7 6AD

Crown
98-100 Heaton Moor Road, Heaton Moor SK4 4NZ

Elizabethan
33 Heaton Moor Road, SK4 4PB

George & Dragon
422 Manchester Road, Heaton Chapel SK4 5DH

Navigation
1 Manchester Road, Heaton Norris, SK4 1TY

Railway
74-76 Wellington Road North, Heaton Norris, SK4 1HF

Friendship
353 Wilmslow Road, M14 6XS

Blue Bell
170 Barlow Road, M19 3HF

Station Hop
815 Stockport Road, M19 3BS

Tatton Arms
Trenchard Drive, M22 5LZ

Lounge About
424 Palatine Road, M22 4JT

Puss in Boots
147 Nangreave Road, SK2 6DG

Finger Post
434 Hempshaw Lane, SK1 4QA

Grey Horse
99 Broadstone Road, SK5 7AS

Union
93 Broadstone Road, SK5 7AS

Project 53
22 Market Place, SK1 1EU

Midway
263 Newbridge Lane,
SK1 2NX

Queens
11 Great Portwood Street, Portwood, Stockport SK1 2DW

Wellington
59-61 Wellington Road South, SK1 3RU

Queens Head
12 Little Underbank, SK1 1JT

Woodstock Arms
139 Barlow Moor Road, M20 2DY

Railway
3 Lapwing Lane, West Didsbury M20 2NT

Orion
8 Burton Road, M20 3ED

Victoria
438 Wilmslow Road, M20 3BW